2023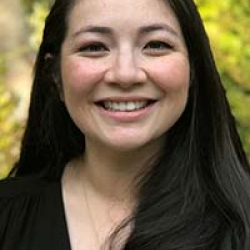 NSF Early CAREER awardee Jenna Wong Explores How Nature can be Incorporated into Building Design
This year, the National Science Foundation (NSF) named Wong an Early CAREER grant recipient to study the resilience of green infrastructure. Her proposal focuses on the practice of incorporating nature, like a vertical greenery and green roof structure, into a building's design. Wong's five-year grant of $510,000 will help inform green infrastructure guidelines and equip San Francisco State students with skills for an environmentally conscious workforce.
"This is going to prepare students, the next generation of engineers, by teaching them what sustainable structural resilience is," Wong said, adding that climate change is a reality that engineers must tackle.
Click Below to Read More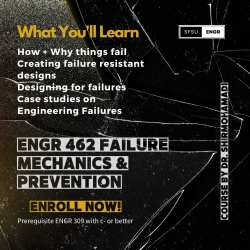 ENGR 462 Failure Mechanics and Prevention
Offered this Fall 2023.
Enroll Now!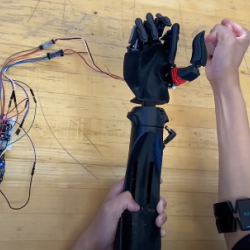 School of Engineering Faculty Win Sony Grant for Research and Student Support
SF State's School of Engineering is now part of Sony's Sensing Solutions University collaboration program. A new seed grant of $26,000 will support an SF State project called "Neural2: Efficient Deep Neural Network for Neural-controlled Bionic Arm with Spresense Microcontroller" led by Assistant Professor of Computer Engineering Zhuwei Qin and Associate Professor of Computer Engineering Xiaorong Zhang.
Their research team will use Sony's Spresence microcontroller board to develop a deep learning-based bionic arm. They currently have a prototype of a prosthetic that could be used by patients after a stroke or amputation. Their system collects muscle-generated electrical activity (EMG signal) and uses Sony's microcontroller to generate a patient's desired arm gesture in real time. Student researchers working on this project were grand prize winners at a virtual Sony-sponsored competition last year. As part of this new collaboration, Engineering students will also receive support from the grant; Sony will provide hardware resources and technical support for capstone projects.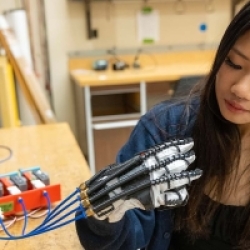 Helping Hands: How Undergrad Research Experiences Open Doors
By Kanaga Rajan, May 31, 2023
When undergraduate engineer Lauren Gan was at community college, she applied for a summer research internship at San Francisco State University. She never anticipated the opportunities that would arise from that summer.
Now Gan — who transferred to San Francisco State early 2023 from Skyline College — has won the Undergraduate Student Award at the 2023 Pacific Southwest section of the American Society of Engineering Educators (ASEE) for her work on an exoskeleton glove that helps people with limited mobility.
"It opens up doors for you. I'm saying that from first-hand experience," Gan said of her research and engineering conference experiences — both of which were firsts for her. They've allowed her to really apply fundamentals she's learned in courses and network with like-minded individuals.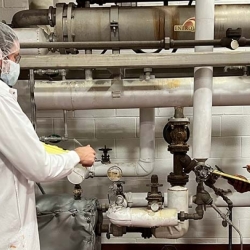 The University will Partner with other Minority-Serving Institutions to Improve Student Training and Manufacturer Energy Efficiency
"This award recognizes SF State as a leader in advanced energy technologies and engineering education. The Center of Excellence will expand our best practices to other existing and new IACs, in order to promote the development of diverse energy engineers who can meet the high workforce demand in this field," said Ed Cheng, professor and associate director of the School of Engineering, who is leading this project.
Based out of SF State's IAC, the new program will be a regional hub for IACs to collaborate with government, nonprofit, labor and industry partners. Building upon services and training opportunities already provided via IACs, the center also will support training at other minority-serving institutions, establish programs in tribal communities and address environmental justice issues. This includes development of new curricula and best practices for IACs and other organizations.
Visit SF State's IAC for more information about student training opportunities and how to request an energy assessment.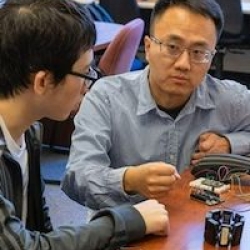 San Francisco State University joins Sensing Solution University collaboration Program
By Aryna Creanga, May 9, 2023
Sony Developer World and Sony's Semiconductor Solutions Group (SSS) announce their collaboration with San Francisco State University (SFSU), School of Engineering, as part of the Sensing Solution University collaboration Program (SSUP). The SSUP program offers real collaboration opportunities for a network of partners, from university labs to teaching facilities. It encourages and supports research projects in the area of sensing solutions and promotes innovation and education. 
The aim of the SFSU team is to utilize Sony's Spresense microcontroller board to develop efficient deep learning algorithms. By doing so, the team wishes to improve the EMG-based neural-controlled bionic arm technology by introducing deep learning compression techniques. In this project, high-density surface electromyography (HD-EMG) signals will be collected using electrode grids from forearm muscles for hand gesture recognition. The SFSU team will develop efficient deep learning models for HD-EMG signal processing and compress the deep learning model to run optimally on the Spresense edge board to control a bionic arm.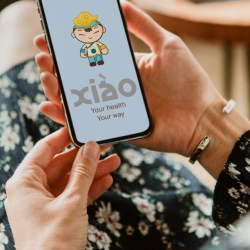 CSU Interagency Grant Award for STEM-NET SEED Grant - San Francisco
PI: Charmayne Hughes (Health Equity Institute Professor of Kinesiology)
Co-PIs: Laura Mamo (Health Equity Institute Professor of Public Health), Zhuwei Qin (Assistant Professor, School of Engineering), and Xiaorong Zhang (Associate Professor, School of Engineering)
This interdisciplinary collaborative research SEED grant offered by STEM-NET aims to address physical frailty assessment through the integration of user-centered design, ethical considerations, and mobile and wearable sensor technologies. The project will involve a strong convergent research team comprising experts from computer engineering, kinesiology, medical sociology, and health equity. The team will develop a valid and practical solution for physical frailty assessment using the Xiào system. This application will be designed and developed using a co-creation approach, which involves engaging older adults in the design process to bring forward unique ideas and experiences that the research team may not have. Additionally, an unobtrusive wearable sensor will be used to collect kinematic data from older adults with different physical frailty levels. The team will develop and evaluate a new machine learning-based frailty assessment system. 
The project's approach will provide clinicians with objective data about frailty status, allowing them to make informed decisions to achieve the best outcome for their patients. The technico-medical approach will also reduce stigma and stereotyping of older adults, thus further isolating vulnerable individuals. The Xiào system mobile application is named after the Chinese word for filial piety, which reflects the project's commitment to respect and value older adults' contributions to society.