2023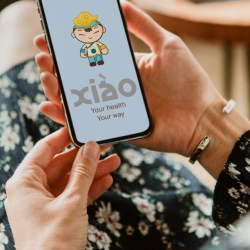 CSU Interagency Grant Award for STEM-NET SEED Grant - San Francisco
PI: Charmayne Hughes (Health Equity Institute Professor of Kinesiology)
Co-PIs: Laura Mamo (Health Equity Institute Professor of Public Health), Zhuwei Qin (Assistant Professor, School of Engineering), and Xiaorong Zhang (Associate Professor, School of Engineering)
This interdisciplinary collaborative research SEED grant offered by STEM-NET aims to address physical frailty assessment through the integration of user-centered design, ethical considerations, and mobile and wearable sensor technologies. The project will involve a strong convergent research team comprising experts from computer engineering, kinesiology, medical sociology, and health equity. The team will develop a valid and practical solution for physical frailty assessment using the Xiào system. This application will be designed and developed using a co-creation approach, which involves engaging older adults in the design process to bring forward unique ideas and experiences that the research team may not have. Additionally, an unobtrusive wearable sensor will be used to collect kinematic data from older adults with different physical frailty levels. The team will develop and evaluate a new machine learning-based frailty assessment system. 
The project's approach will provide clinicians with objective data about frailty status, allowing them to make informed decisions to achieve the best outcome for their patients. The technico-medical approach will also reduce stigma and stereotyping of older adults, thus further isolating vulnerable individuals. The Xiào system mobile application is named after the Chinese word for filial piety, which reflects the project's commitment to respect and value older adults' contributions to society.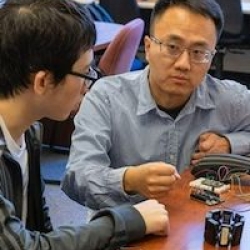 San Francisco State University joins Sensing Solution University collaboration Program
By Aryna Creanga, May 9, 2023
Sony Developer World and Sony's Semiconductor Solutions Group (SSS) announce their collaboration with San Francisco State University (SFSU), School of Engineering, as part of the Sensing Solution University collaboration Program (SSUP). The SSUP program offers real collaboration opportunities for a network of partners, from university labs to teaching facilities. It encourages and supports research projects in the area of sensing solutions and promotes innovation and education. 
The aim of the SFSU team is to utilize Sony's Spresense microcontroller board to develop efficient deep learning algorithms. By doing so, the team wishes to improve the EMG-based neural-controlled bionic arm technology by introducing deep learning compression techniques. In this project, high-density surface electromyography (HD-EMG) signals will be collected using electrode grids from forearm muscles for hand gesture recognition. The SFSU team will develop efficient deep learning models for HD-EMG signal processing and compress the deep learning model to run optimally on the Spresense edge board to control a bionic arm.