Your Engineering Career Starts Here!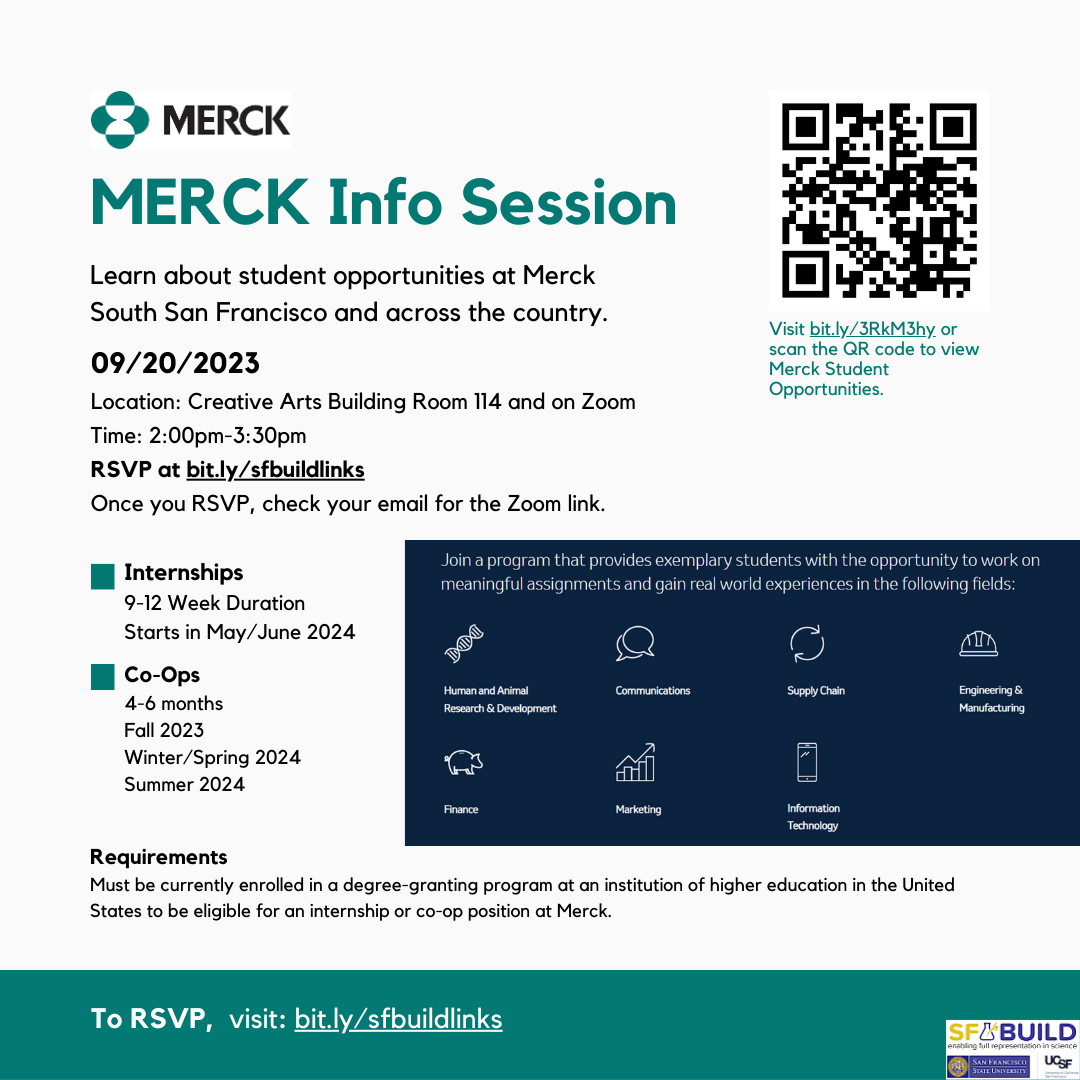 Internship and Co-Op Opportunities Info Session
Merck x SF BUILD 
Learn about student opportunities at Merck, as well as the requirements and expectations.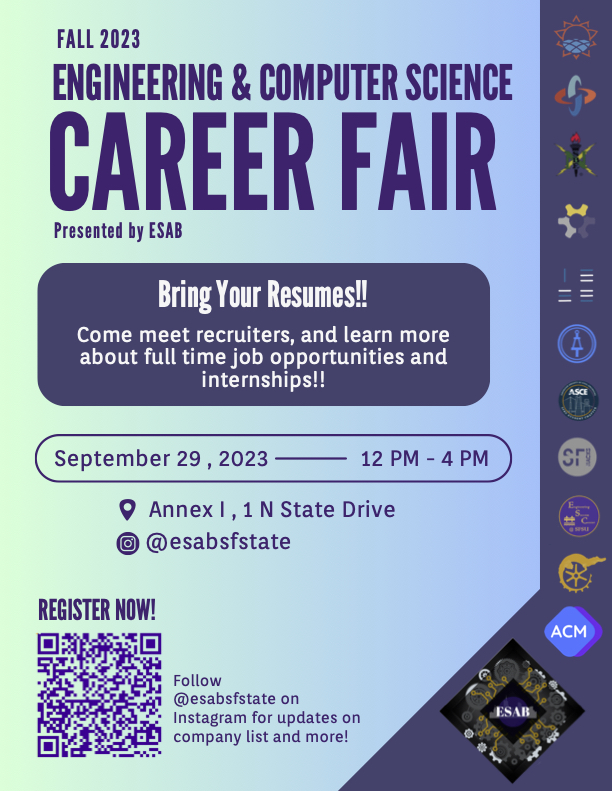 ENGR+ Computer Science Career Fair is Back.
Mark your calendars!
In-person on Friday, September 29, 2023, 12 - 4 pm 
Annex: 1 N State Dr, San Francisco, CA 94132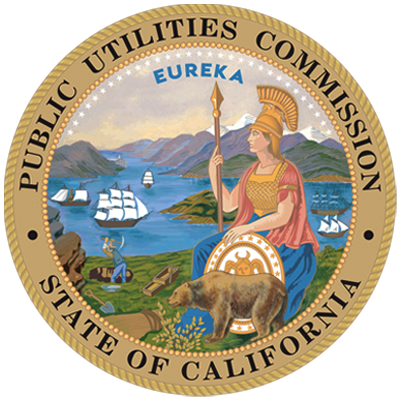 The California Public Utilities Commission Info Session
The California Public Utilities Commission Energy Division is hosting a Virtual Open House session on Monday, September 25th, 2023 at 12 P.M. (PST) for interested job seekers and potential candidates.
This is the final session for this month:
Monday, September 25th,2023,  12 P.M. (PST)
If interested in attending this session, please reply to this email stating that you would like to attend.
Please visit the California Public Utilities Commission Energy Division website for more information.
lease note: the Energy Division currently has open positions which are suitable for graduate students, PhDs, and those with some experience.
You may also email us at EnergyDivisionRecruiting@cpuc.ca.gov with any questions.

Careers in Construction Management
Con-Quest Contractors is actively seeking to fill Internship and Full Time Employment Positions in their Burlingame HQ.
Infrastructure solutions and services to both private and public sector clients, with a reputation of quality and reliability from clients and colleagues. Established in 2008, Con-Quest Contractors has consistently grown each year with a culture that every project is a success only if the Owner, Stakeholders, as well as C-QC, are pleased with the results. Our seasoned superintendents, foremen, and management team are among the most loyal and experienced hands in the industry. Con-Quest Contractors personnel have a broad knowledge of construction practices in: Trackwork, Underground Wet and Dry Utilities, Mechanical Piping, Foundations, Excavation Support, Concrete Structures, Concrete Paving and Flatwork, and Creeks / Canals, from work on many projects throughout the Greater Bay Area and LA Basin.
Contact Andy Baksheeff (andyb@cqcontractors.com) for more info.

Field Service Instrumentation Technician in the Bay Area
About JPR Systems
Since 1985, JPR Systems has been a leading manufacturer's representative of industrial process measurement instrumentation.  We take pride in our extensive portfolio of cutting-edge measurement instrumentation which includes flowmeters, level, pressure, and temperature transmitters, gas & flame detection devices, heat trace cable, liquid and gas analyzers, and much more from well-known manufacturers.
Based in Brea, CA, we serve a variety of industries including water & wastewater agencies, oil & gas, pharmaceutical, food & beverage, chemical, and power & energy companies across California and Nevada.
We are currently seeking an experienced Field Service Instrumentation Technician to join our dynamic team. If you possess strong technical and mechanical skills, we want you on board! Reporting directly to our Operations Manager, your role will involve traveling to our customers' facilities within California and Nevada. You will perform crucial tasks such as calibration, installation, troubleshooting, and repair of our various instrumentation lines based on the manufacturer's specifications.
Learn more on our Website.
If you are looking for a rewarding hands-on career, where you an essential part of our team, and play a significant role in keeping our customer's businesses run smoothly, this may be the role for you!
Field Service Instrumentation Technician Role:
Perform onsite service for customer's process measurement instrumentation including start up, commissioning, calibration, maintenance, and repair.
Perform system startup, testing, troubleshoot and diagnose instrument failures if applicable.
Responsible for ensuring instrumentation is accurately calibrated and meets customer and quality requirements.
Identify and order parts as needed.
Interact with customers in various departments; operations, maintenance, planning, environmental health & safety and engineering.
Conduct onsite training sessions to customer's technicians on instrumentation startup, troubleshooting, calibration, and verification.
Work with Operations Manager and JPR Systems Sales team to determine customer's needs and urgency to schedule service calls accordingly.
Accurate and timely completion of daily service reports and calibration documentation
Looks for additional product and service opportunities within account and provides customer with information.
Manage travel expenses and complete expense reports.
Training
New technicians will shadow and learn from experienced Field Service Instrumentation Technicians for several months and attend manufacturer's training meetings and webinars before working on their own.
Application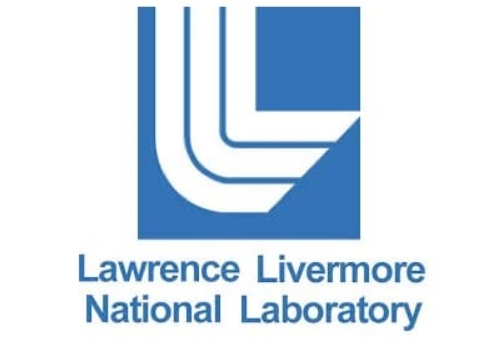 Lawrence Livermore National Laboratory Internships
About Lawrence Livermore National Laboratory
The Deputy Director for Science and Technology (DDST), Patricia Falcone, oversees the integration of LLNL's science and technology (S&T) expertise and resources with its programmatic mission areas devoted to enhancing national—and world—security. The DDST Office ensures Livermore's world-renowned S&T research excellence balances innovation with disciplined execution, and multidisciplinary teamwork with individual initiative. The combination of mission focus and S&T excellence is central to the Laboratory's strategic vision.
Learn more on our Website.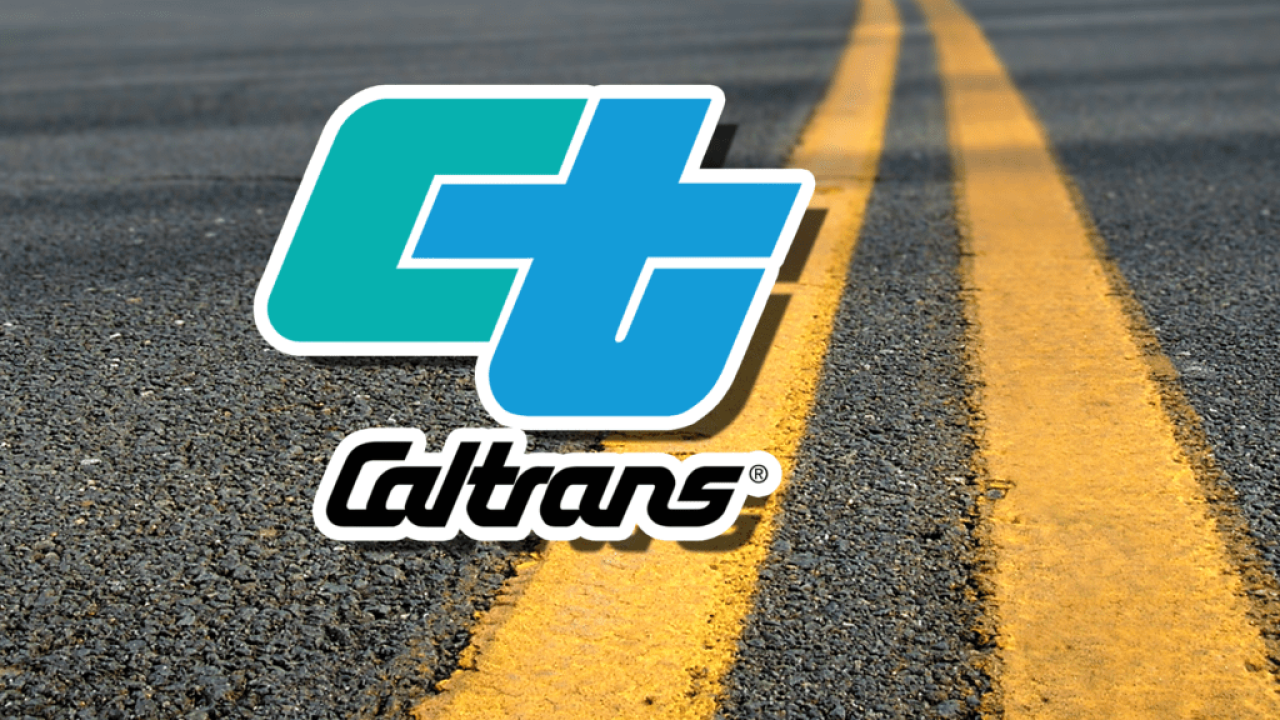 CalTrans is looking for Resident Engineers, Assistant Resident Engineers and Office Engineers
Be an Engineer at CalTrans
Job Description and Duties
In the Division of Construction, under the general direction of a Senior Transportation Engineer, the incumbent serves as a Resident Engineer (RE) over a construction project and is responsible for the engineering integrity. The incumbent administers major and minor construction projects ensuring contract compliance and acts within the authority of the State Contract Act, the "Engineer's Authority" of the Standard Specifications, the Caltrans Construction Manual and any other applicable administrative instructions.
Under the technical direction of a Professional Engineer, the incumbent serves as an Assistant Resident Engineer (ARE).  This position assists the Resident Engineer as the state representative on one or more construction projects to ensure the performance of assigned work complies with the current requirements of Standard Plans, Standard Specifications, and Standard Special Provisions.
Under general direction of a Senior Transportation Engineer, the incumbent serves as the Office Engineer (OE).  This position assists the Resident Engineer with difficult contract administration activities at a field office.  This includes preparing, maintaining complete and accurate documentation regarding construction contracts and projects.
After successful completion of a one year probation, the new state candidate will be required to enroll in the Caltrans Transportation Engineer Rotation Program, which includes rotating to other divisions for up to two years in the Oakland District Office. Throughout employment with the division, employees may be required to work at night and/or weekends; may be transferred to work at another construction field office; or may be re-assigned to work for another senior engineer on a different project.
 
Position located in either (ALAMEDA, CONTRA COSTA, MARIN, SAN MATEO, SANTA CLARA, SOLANO, SONOMA) County.
Past Opportunities
Comments, questions and suggestions for our website? We are always looking for ways to grow and improve. Email Sang1@sfsu.edu.