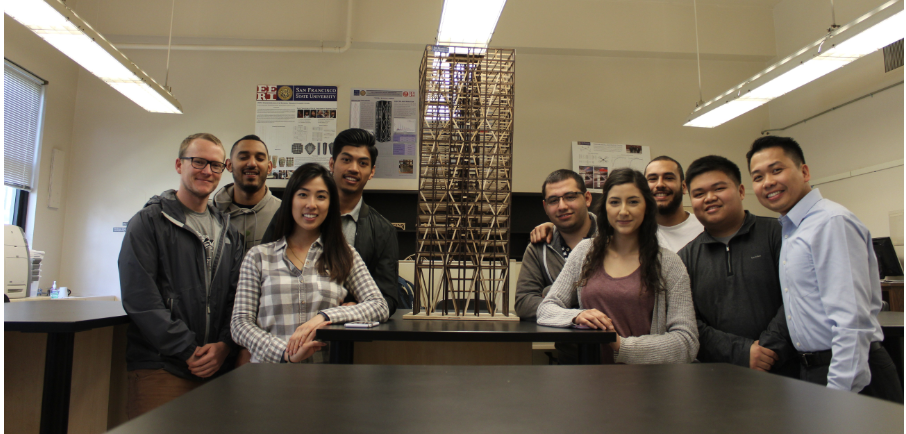 Eight SF State engineering students achieved the Best Seismic Performance award, among 35 national and international teams that were invited to the 2017 Earthquake Engineering Research Institute's annual Seismic Design Competition, held last month in in Portland, Oregon.
The team included SF State students Amy Chun, Bashir Habboub, Gerald Macaspac, Josias Galan, Mark Manalo, Selena Gray, Tyler Fallon, and William Solano (team captain), advised by Assistant Professor of Engineering Zhaoshuo Jiang. The group spent 10 months designing and constructing their high-rise building models and testing them on the shake table (earthquake simulator) in SF State's Intelligent Structural Hazards Mitigation Laboratory located at Science Building 130.
For the competition, the final design of the team's skyscraper which adopted the research outcomes from one of Prof. Jiang's structural topology optimization research projects funded by SFSU ORSP Individual Investigator/Collaborative Grant, is subjected to three different historically devastating earthquake tests. The SF State team's design outperformed all the other teams in seismic performance and won them the Best Seismic Performance title.
For more information about the competition, visit http://slc.eeri.org/SDC2017.htm  and its Facebook page: https://www.facebook.com/EERI.SLC/?hc_ref=PAGES_TIMELINE&fref=nf . Learn more about SF State's School of Engineering at engineering.sfsu.edu.