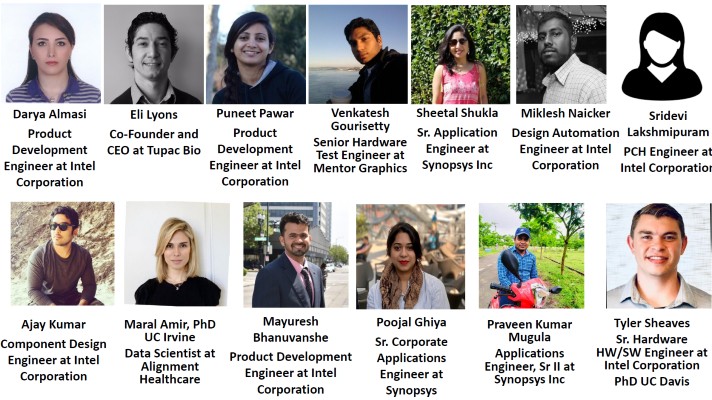 The School of Engineering held a panel of alumni of its graduate program in Electrical and Computer engineering to reflect on their experiences as students in the graduate program and how the program helped them launch their careers and grow in their profession. The panel was held online and well attended by current and prospective students as well as faculty. The diverse alumni panelists included:
Darya Almasi, Product Development Engineer at Intel
Eli Lyons, Co-Founder and CEO at Tupac Bio
Venkatesh Gourisetty, Senior Hardware Test Engineer at Mentor Graphics
Sheetal Shukla, Senior Application Engineer at Synopsys Inc
Miklesh Naicker, Design Automation Engineer at Intel Corporation
Ajay Kumar, Component Design Engineer at Intel Corporation
Dr. Maral Amir, PhD UC Irvine, Data Scientist at Alignment Healthcare
Poojal Ghiya, Senior Corporate Applications Engineer at Synopsys Inc
Tyler Sheaves, Hardware/Software Engineer at Intel Corporation and PhD student at UC Davis
The panelists discussed how the knowledge and experiences they gained from the graduate program helped launch their careers after graduation. They highlighted the hands-on project experiences, exposure to state-of-the-art technology and design tools, and intimate mentorship and support by the faculty as being the strengths of the program.
"Students choose our master program in pursuit of their professional aspirations and it is a pleasure as a faculty member and advisor to be part of their success in turning those aspirations into reality" said Professor Hamid Mahmoodi, who had served as research advisor to the alumni panelists when they were master students. He has supervised more than one hundred master students in research.
The masters program in Electrical and Computer Engineering offers hands on and project-based learning opportunities in the areas of embedded systems, VLSI and integrated circuit design. This enables the development of deep technical skills in embedded systems design, ASIC Design, Digital Design Verification, Mobile Computing, Hardware Design, and Machine Learning. Such skills prepare the graduates for jobs as Embedded Systems Engineer, Firmware Engineer, Verification/Validation Engineer, Test Engineer, Application Engineer, Hardware Design Engineer, and Software Engineer. The graduates of the master program are employed by high tech companies such as Intel, Synopsys, Nvidia, AMD, Broadcom, Qualcomm, and Western Digital. Some have moved on to PhD programs at reputable institutions such as UC campuses, Virginia tech, and Duke.
The graduate program accepts application for admission in both fall and spring semesters. SFSU undergraduate students can apply for an accelerated BS+MS program called SF State Scholars Program.