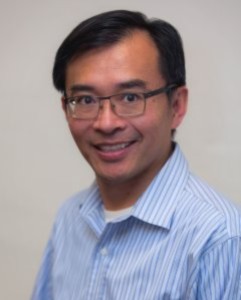 Education
Ph.D, Electrical Engineering, University of California at San Diego 2000
B.S. Materials Science, Tsinghua University, Beijing 1994
Biography
Hao Jiang has been with San Francisco State University since August 2007. He is a professor in
electrical and computer engineering.
Prior joining SFSU, he worked for Broadcom Corporation, Jazz Semiconductor and Conexant
Systems Inc..
His research interest is to develop low-power, high-speed, energy-efficiency and small form-factor
integrated circuit systems for biomedical and bio-inspired computing systems.
Research Area: Integrated circuit design for (1) Bio-inspired Neuromorphic Computing System; (2)
Passive Wireless Sensing; (3) Wireless Power Transfer; and (4) Pulsed Ultra-Wide-Band (UWB)
Circuits
Grants, Funding & Mentorships
(2) Alumni Won $100k Qualcomm Innovation Fellowships, Oct 2020
SFSU ENGR Faculty received an NSF Major Research Instrument Award of $749,304 to Acquire New Automatic Test Equipment, Aug 2020
ENGR Students Win the 1st Place Award in the CSU Student Research Competition, Apr 2020
Air Force Research Lab Funding to Design Innovative Analog Circuit System, 2018