Natalia Igu, Ph.D.
Lecturer Faculty 
Discipline: Mechanical Engineering
Office: HH 807E
Email: nataliai@sfsu.edu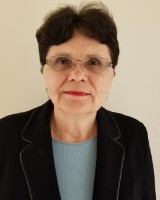 Education
PhD. in Mechanical Engineering, University of Agriculture, Makurdi, Nigeria, 2008
M.Sc in Mechanical Engineering, Kharkov Polytechnical Institute, USSR, 1978
Biography
Dr. Natalia Igu is currently a part-time Faculty in the School of Engineering at San Francisco State University since Fall 2013. She received her PhD degree in Mechanical Engineering from University of Agriculture, Makurdi, Department of Mechanical Engineering, Nigeria in 2008. During her doctoral work she carried out research on the effects of process conditions on the shrinkage and warpage of injection- molded plastic parts. She successfully developed an empirical model for accurate prediction of shrinkage of thermoplastic materials and established adequate parameters for process optimization to eliminate warpage. In 2010 Dr Natalia Igu joined Nigerian Turkish Nile University, Abuja, Nigeria as Adjunct Lecturer teaching and serving as acting Head of Department of Electrical and Electronics Engineering and Technology. She worked as a Research Assistant in Kharkov Polytechnical Institute, Kharkov, USSR (1977-1978) where she conducted research of the processes of fine turning of structural steel using tools from tungstenless cemented carbide alloy MNT-A2 and studied the effects of cutting speed, feed, depth of cut on tool wear and surface finish. The results of the investigation were used in local industry. After receiving her Master of Science in Mechanical Engineering degree from Kharkov Polytechnical Institute, Kharkov, USSR (presently National Technical University, Kharkov, Ukraine) in 1978 she worked four years as a design engineer in Micromotor industry, Russia, designing different types of molds, press-forms, fixtures, jigs and cutting tools. In 1987 she became a faculty member of College of Engineering, Department of Mechanical Engineering, University of Agriculture, Makurdi, Nigeria. She taught numerous engineering courses and supervised more than forty student's projects at BS, MSc and PhD levels. Igu Natalia is a recipient of Federal Government of Nigeria Scholarship Award. She is registered with COREN (Council for the Regulation of Engineering in Nigeria). Her current research interests include: Crystallization Kinetics and Effects of Viscosity on Shrinkage of Polymers; Use of Porous Ceramic Membranes in a Cross- filtration Module; Machining of Composite Materials; and Development of Biomedical Devices.