Your Engineering Career Starts Here!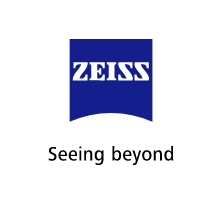 Carl Zeiss Microscopy
ZEISS Service Engineer Summer Internship
This is a paid summer internship for ZEISS, and we are excited to offer an opportunity to a select group of qualified STEM majors in their last and second to last year. We are recruiting for openings in the Los Angeles, San Francisco, and New York City metropolitan areas. The program runs from June 12th to August 4th. During the program interns will be trained in the basics of either electron microscopy or light microscopy repair and troubleshooting techniques then shadow Service Engineers in the field.
Reach out to Justin L. Jacobs, PhD, Field Service Engineer at Carl Zeiss Microscopy, LLC (justin.jacobs@zeiss.com) for more info. 
Push the boundaries. Upgrade your microscopes. Visit our webpage to learn more.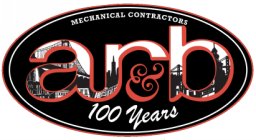 California Public Utilities Commission (CPUC)
Hiring: Mechanical HVAC Engineer
Anderson, Rowe & Buckley (AR&B) is a mechanical design/build contractor with in-house licensed Professional Engineers. Mechanical engineers work with estimating and project management divisions, and coordinate with Architects and other trades to produce drawings/plans in compliance with project scope of work, building codes and building standards. AR&B is hiring for a position as an entry level Mechanical Engineer with little to no experience to work in our Engineering and Design Department.
Email rbustos@arbmechanical.com to apply.

Externship Program Opportunity at Arup!
Externship Program is a 2-day program that will occur on Thursday April 13th and Friday April 14th as a hybrid virtual and in-person program at our office in Downtown San Francisco.
Undergraduate students interested in a career in the built environment, particularly through an engineering, economic, and urban planning lens, would find this program particularly beneficial. 
During the externship at Arup, current college students will have the opportunity to learn about careers in the built environment from some of the most highly respected designers, planners, engineers, architects, consultants, and technical specialists in the world. The externship will provide students with an opportunity to hear from global Arup leaders, learn about our work, the tools and strategies we use, and expose students to various careers in the built environment. Finally, we will host workshops to enhance career readiness and professional growth to prepare undergraduates for their next role. 
The Arup Externship Program hopes to connect with and inspire traditionally underrepresented groups. The aims and principles laid out by our founder, Sir Ove Arup, represent the values of our team members. These values are our guide to how we support our clients and the work that we do. We continue to embody the idea – that our work is truly profitable when it Shapes a Better World. We need diverse voices to achieve this goal. To learn more about our values click here (https://www.arup.com/our-firm/values).  
The deadline for the submission of this application is March 13th, 2023 at 5pm PST 
If you have any questions, please feel free to send an email to ArupSFOAKExternship@arup.com. 
Learn more about Arup and the work we do here: https://www.arup.com/ 
·         Academy of Sciences: https://www.arup.com/projects/california-academy-of-sciences 
·         Presidio Parkway: https://www.arup.com/projects/presidio-parkway 
·         San Francisco International Airport  – The Harvey Milk Terminal: https://www.arup.com/projects/sfo-terminal-1-boarding-area-b 
·         Bird's Nest:  https://www.arup.com/projects/chinese-national-stadium# 
·         Sydney Opera House: https://www.arup.com/projects/sydney-opera-house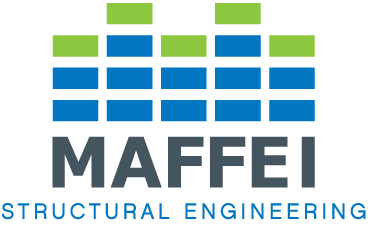 Maffei Structural Engineering – Externship Program
Program description
Maffei Structural Engineering is offering a 3-day externship program to introduce curious students to the field of structural engineering. Participants will go through a structured program of learning activities including presentations about the industry, real project work, Young Engineers' meetings, and personal mentorship.
The externship will take place from a Tuesday through Thursday sometime between March and August, depending on participants' availability. A tentative schedule of activities is shown below. Participants will be awarded a stipend to compensate them for their time.
Only limited spaces are available. We welcome applications from candidates who identify with groups that are under-represented in structural engineering.
To apply
We are looking for aspiring engineers who are eager to learn about structural engineering and our team. Please apply through the form linked below, also posted on our website. The application requires a resume, your transcript (unofficial version OK), and a short response as to how our program can help you. All students in a civil/structural engineering program are welcome to apply! Applications for spring break are due 2023 March 1, and for summer are due 2023 April 1.
View Program Flyer for more details.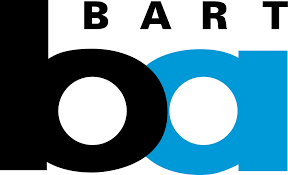 BART Engineering Internships for Summer 2023
2023 Design & Construction Summer Internship Program
BART's mission is to provide safe, reliable, clean, quality transit service for riders.
The Design & Construct Summer Internship Program is a partnership with Bay Area community-based organizations, local colleges, universities and well established engineering and construction management firms. Students will receive meaningful leaning experiences by active participation on existing projects. This experience is designed to develop workplace skills, expand knowledge of career options in transit and inspire interest in careers at BART. 
Flexible Program Dates from May - September 2023.
Program Requirements
Current resume
Letter(s) of recommendation
Current transcript (GPA-2.0)
1000 word essay on preselected questions.
Pay Rate
$22.50 hourly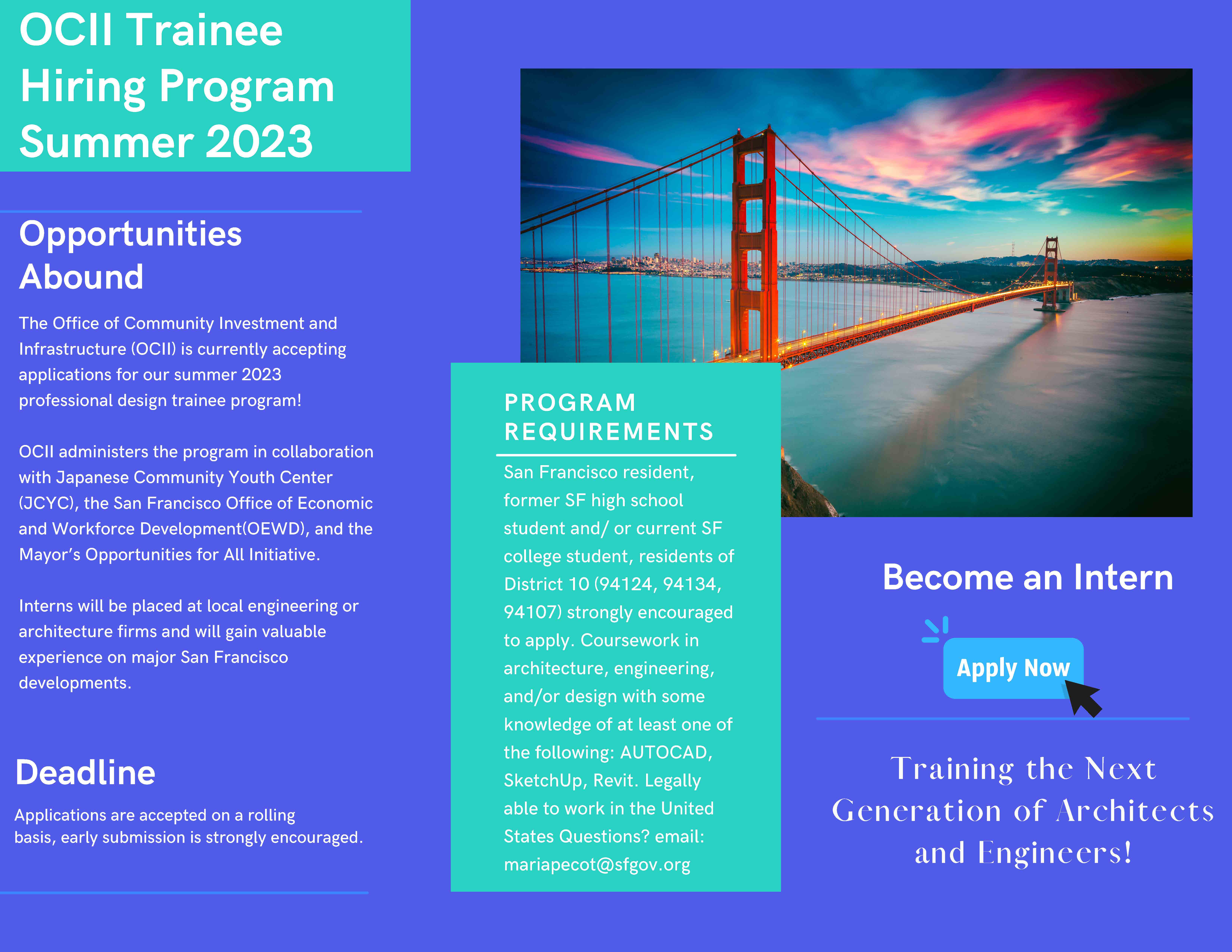 OCII Engineering Internship 2023
Training the Next Generation of Architects & Engineers
The Office of Community Investment and Infrastructure (OCII) is currently looking for San Francisco base students for our program which is based out of San Francisco City Hall with OCII. The students will be working on major projects with a firm throughout the city. The firms will be working for the City & County of San Francisco. The position is entry level. We need all interns to be computer savvy with design software. Some firms will have interns build models and freehand drawing for many projects. All interns are required to be able to work in-person with a team and join weekly workshops.         
Key Benefits
Create a presentable, resume, portfolio & LinkedIn

Interns will be placed at top local engineering or architecture firms and will gain valuable real work experience

Professional development weekly workshop

Learn how to be a license professional Architect & Engineer "Designer"
PROGRAM REQUIREMENTS 
San Francisco resident, former SF high school student and/ or current SF college student, residents of District 10 (94124, 94134, 94107) strongly encouraged to apply. Coursework in architecture, engineering, and/or design with some knowledge of at least one of the following: AUTOCAD, SketchUp, Revit. Legally able to work in the United States
Questions? email: mariapecot@sfgov.org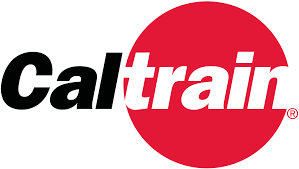 Caltrain Internships for Summer 2023
CalTrain Internship Job Announcement
TITLE: Summer Intern
EMPLOYMENT TYPE: Temporary (Non-Exempt)
APPLICATION DEADLINE: Sunday, April 16, 2023 (1st cutoff March 26, 2023)
PAY RANGE: $25.00/ hourly WORK LOCATION: 1250 San Carlos Avenue, San Carlos, California
WORK SCHEDULE: Starting June 19, 2023 – 320 Hours Maximum
How to Apply
To apply, please visit the https://www.caltrain.com. Complete an online employment application by 11:59 p.m. on Sunday, April 16, 2023 (1st cutoff March 26, 2023). A resume will not be accepted in lieu of the application. Incomplete applications will not be considered. • The Human Resources Department will make reasonable efforts in the recruitment/examination process to accommodate applicants with disabilities upon request. If you have a need for an accommodation, please contact the Human Resources Department at (650) 508-6308. • Caltrain celebrates diversity and is committed to creating an inclusive and welcoming workplace environment. We are an Affirmative Action/Equal Opportunity Employer. Minorities, Women, Persons with Disabilities and Veterans are encouraged to apply.

Geotechnical Engineering Intern Opportunity
Experience Geotech with ENGEO
Locations: San Ramon, Oakland, San Jose, Lathrop, Valencia, Irvine
Position Type: Full-time, paid
Summary
ENGEO 360°  is a comprehensive summer internship designed for talented university students to explore the many facets of a professional technical consulting career in a dynamic, empowering environment. We give our interns a perspective of geotechnical, geoenvironmental, hydrologic, and geologic engineering consulting. This internship will expose you to interrelated aspects of engineering, laboratory, and field experience. On-the-job training is provided in each of these aspects.
Internship Goals
• Provide a meaningful learning experience for talented students.
• Experience a leading engineering consulting firm.
• Make long-lasting connections with talented mentors and peers.
• Find out what makes ENGEO unique and make an impact on our business!
Our Ideal Candidate
• Excellent written and verbal communication skills.
• Can-do attitude with an eagerness to learn.
• Thrives in a fast-paced environment. Required Qualifications
• Pursuing a degree (BS, BA, MS, or Ph.D. in Geotechnical/Civil/ Environmental Engineering, Geology, or a related field.
• Must have taken an introduction to soils class.
• Must own or have access to a vehicle to visit job sites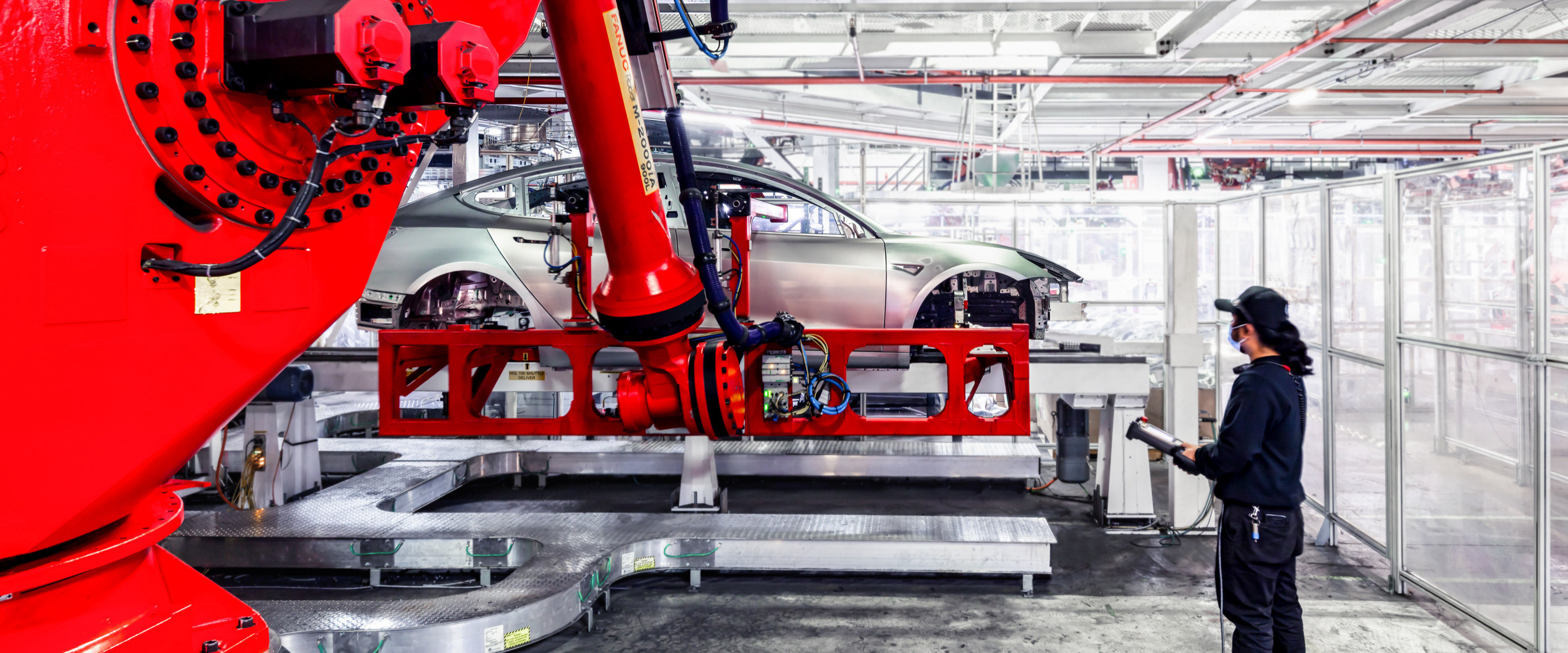 Electrical Engineering Internship (Summer 2023)
Tesla Motors is Now Accepting Internships for Summer 2023!
Internship will be 40 hours per week from May 2023 thru the entire summer, or into Fall 2033 in their Palo Alto Office
Apply now!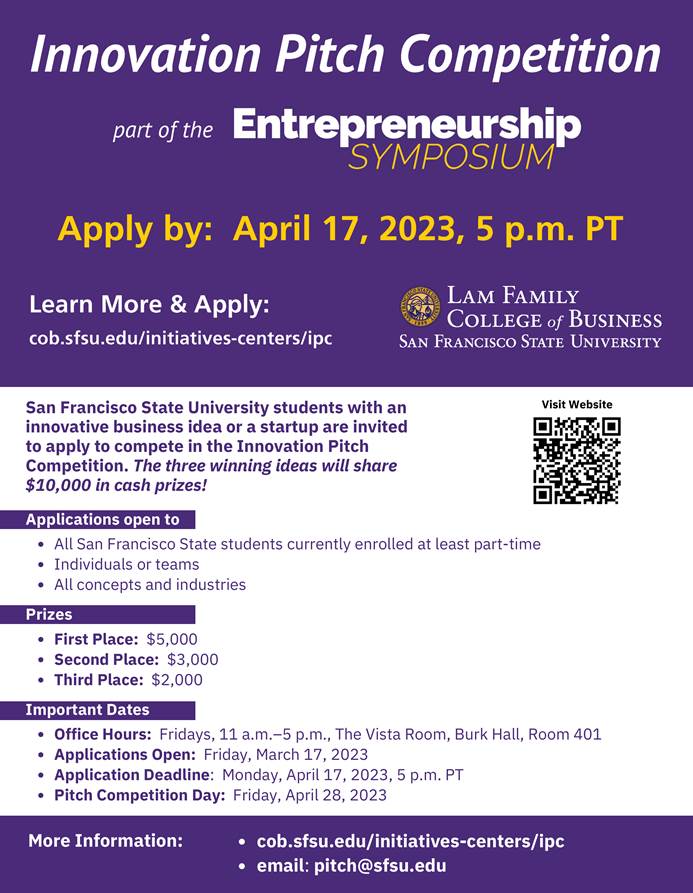 Innovation Pitch Competition
The LFCoB is having an Innovation Pitch Competition scheduled on this April at the I&E Symposium. 
Applications open to
All SFSU students (undergrad & grad) - The final pitch event must be attended and presented by at least one SF State student on each team. Team members who are not SF State students are also encouraged to attend, but at least one SF State student per team is required to attend and present.
All concepts and industries
Individuals or teams
Prizes
First place:      $5000
Second place: $3000
Third place:     $2000
Important Dates
Application Close: April 17, 2023, 5pm
Acceptance Notification: April 24, 2023, 5pm
Pitch Day: April 28, 2023 (via zoom)
Email: pitch@sfsu.edu
Startup Networking & Workshops Opportunities
Thirsty Thursday Feb 23, 4pm-6pm, Vista Room (Room 401), Burk Hall
Pitch Decks 101 - Tell & Sell Your Idea Mar 3, 1pm-2:30pm (zoom)
How to Present to Investors (website/registration will be available soon) April 7, 2pm-3:30pm (zoom)
Office hours Friday, 11am-5pm, Vista Room, Burk Hall
See flyer for more information.
Student Assistant Opportunities
Multiple Grader Positions Available!
The School of Engineering is hiring graders for several faculty members for the following classes-
ENGR 235 (8 hours per week)
ENGR 439 (3 hours per week)
ENGR 435 (3 hours per week)
Requirements: Must have taken the course already. 
Looking to fill this position immediately!