Lecturer Faculty, School of Engineering (Mechanical)
Discipline: Principles of HVAC (ENGR 465), Energy-Efficient Buildings (ENGR 865)
Office: SCI 143
Email: liamb@sfsu.edu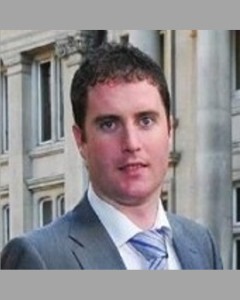 Education
M.Sc., Building Services Engineering with Sustainable Energy, Brunel University London, UK, 2009
B.Eng. (Hons), Building Engineering, Technical University Dublin, Ireland, 2006
Biography
Liam Buckley is currently part-time Lecturer Faculty in the School of Engineering at San Francisco State University since Spring 2018. Mr. Buckley received his B.Eng. (2006), from Technical University Dublin in Ireland, in 'Building Engineering', and M.Sc. (2009) from Brunel University London in the UK in 'Building Services Engineering with Sustainable Energy'. He joined the School of Engineering at San Francisco State University in 2018 and has been teaching at SFSU since 2018, including subjects for Principles of HVAC (ENGR 465) and Energy-Efficient Buildings (ENGR 865).  
Mr. Buckley became an ASHRAE Certified Building Energy Modeling Professional (BEMP) in 2010 and earned his professional Chartered Engineer status in 2011 with Engineers Ireland. He accumulated his professional engineering experience through mechanical engineering design & construction with White Young Green (2005-2007) and through building performance simulation with IES Ltd. (2007-present), where he performed whole-building energy simulation & optimization analysis for hundreds of projects in North America, Europe & the Middle East. He is a full ASHRAE Technical Committee member of TC4.1 Load Calculations and TC4.7 Energy Calculations. He has served on the Board of Directors for the International Building Performance & Simulation Association (IBPSA) – USA affiliate.
His maintained research interests are in the subjects of "heating, ventilation & air-conditioning (HVAC)";  "computational fluid dynamics (CFD) simulation";  "building energy codes & standards"; "electrification & decarbonization of the built environment";  "daylight & lighting design";  and "calculating building energy performance".