Jenna Wong, Ph. D., P.E.
Assistant Professor of Civil Engineering
Discipline: Structural Engineering & Earthquake Engineering
Office: Trailer P2A
Phone: (415) 338-1053
Email: jewong@sfsu.edu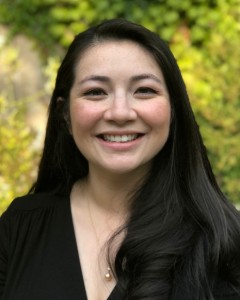 Education
Ph.D., Structural Engineering, University of California, Berkeley, 2014
M.S., Structural Engineering, University of California, Berkeley, 2009
B.S., Civil Engineering, University of California, Berkeley, 2008
License
Licensed Professional Engineer (PE), California (C 83237)
Areas of Interest
Performance-based earthquake engineering
Seismic isolation
Energy dissipation devices
Numerical Methods for Structural Dynamics
Dynamic testing
Resilient Structures
Additive Manufacturing
Biography
Dr. Wong is a structural engineer broadly focused on seismic design of critical facilities.
Her doctorate research at UC Berkeley investigated the applicability of seismic isolation and supplemental viscous damping to nuclear power plants with focus on seismic resilience and safety. The work identified isolation parameters for the optimization of design to produce high performance levels of both structural response and secondary systems. After receiving her PhD, Dr. Wong began a post-doctoral fellowship at Lawrence National Laboratory focusing on developing a modern computational framework for the nonlinear seismic analysis of Department of Energy nuclear facilities and systems. This work seeks to expand the understanding of soil structure interaction for these structures and the means of modeling this behavior both theoretically and experimentally. In addition to her research experience, Dr. Wong also has worked for the public and private engineering sectors in the areas of water infrastructure, transportation, data systems, and project management.
She joined San Francisco State University in 2014 as lecturer and is currently an assistant professor of Civil Engineering in the School of Engineering. Her research interests focus on the application of seismic technology for critical facilities. She is a member of ASCE, EERI, SEAONC, CAIES, and SWE.
News & Awards
NSF Early CAREER awardee Jenna Wong explores how nature can be incorporated into building design, Aug 2023
SoE Awarded $1M NSF HSI Grant to Strengthen Student Motivation and Resilience through Research and Advising, Sept 2021
Seismic Performance of a Seismically Isolated Sustainable Structure Grant, 2019