Spring 2022 Events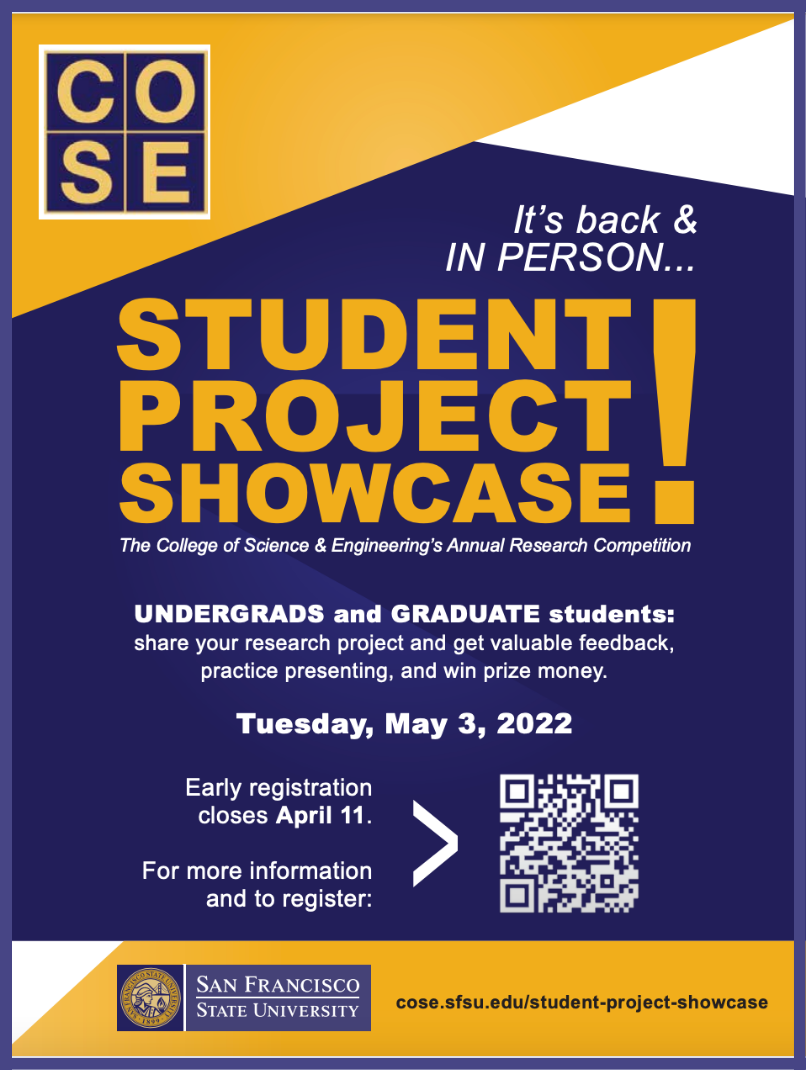 Student Project Showcase | May 3, 2022
The College of Science and Engineering is hosting their annual research competition for undergrads and graduate students. Students will be able to share their research projects and win prize money for the winning project.
Early registration closes on April 11, 2022.
For more information and to register, please visit https://cose.sfsu.edu/student-project-showcase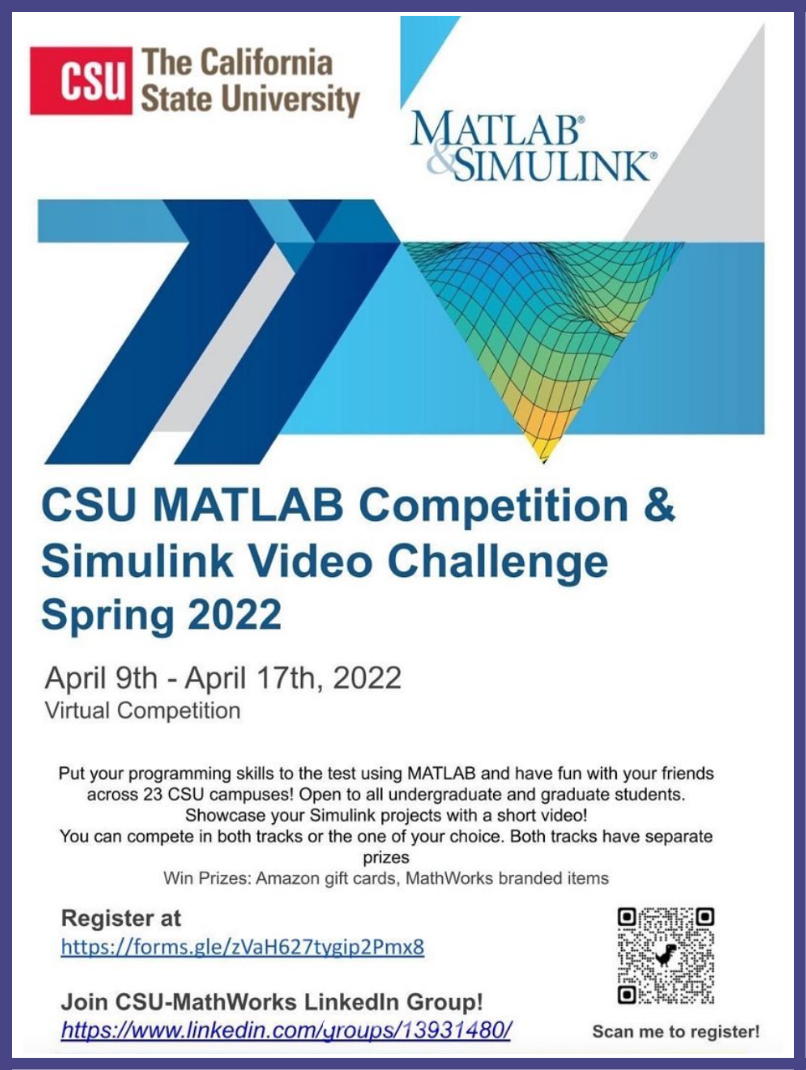 CSU Matlab Competition & Simulink Video Challenge Spring 2022 | April 9 - April 17, 2022
Put your programming skills to the test using MATLAB and having fun with your friends across 23 CSU campuses! Open to all undergraduate and graduate students. Showcase your Simulink projects with a short video! You can compete in both tracks or the one of your choice. Both tracks have separate prizes. (Amazon gift cards, Mathworks branded items)
Register at https://forms.gle/zVaH627tygip2Pmx8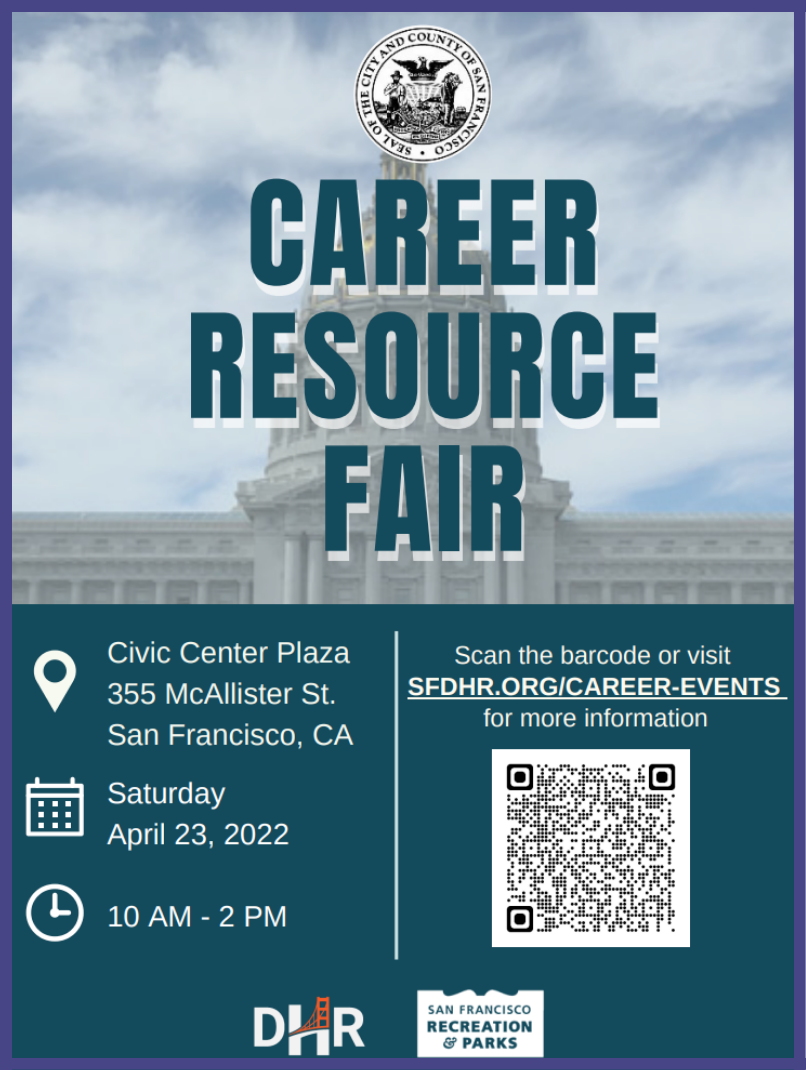 Career Resource Fair for the San Francisco City and County | April 23, 2022
San Francisco City and County are hosting a Career Resource Fair on Saturday, April 23 from 10 AM to 2 PM. If you're interested, please visit https://www.sfdhr.org/career-events for more information.
Civic Center Plaza
355 McAllister St
San Francisco, CA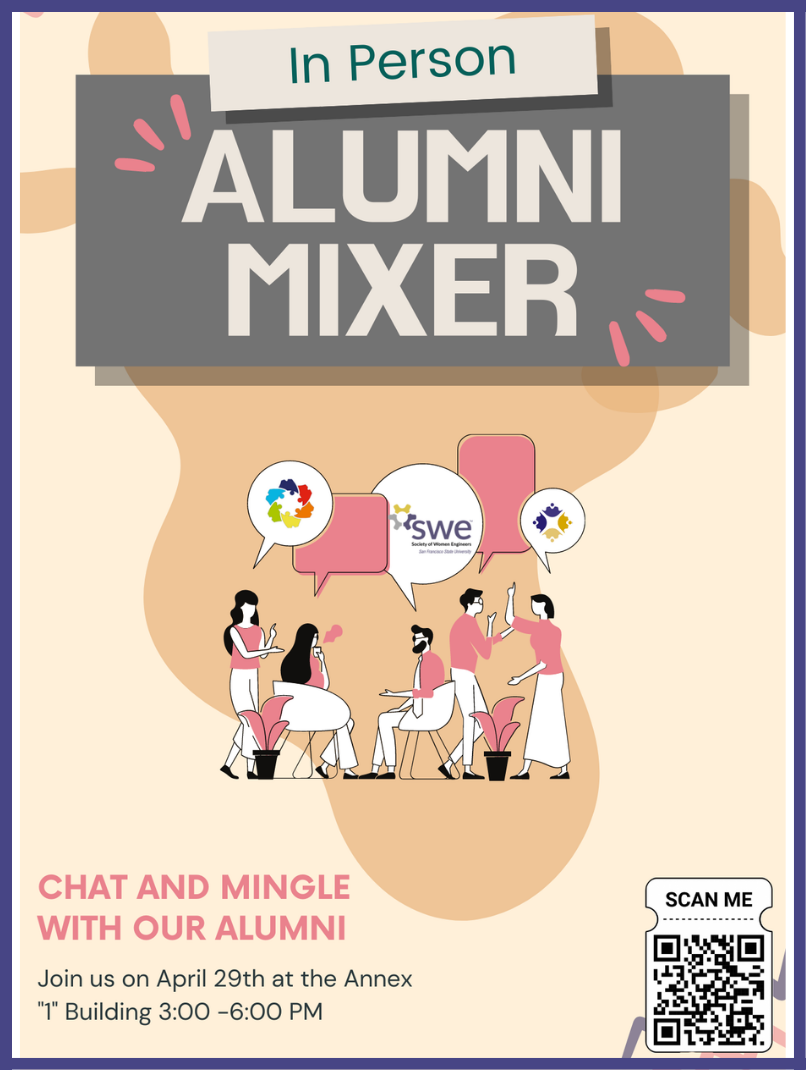 Social Alumni Mixer Hosted by ESAB, ECS, and SWE | April 29, 3-6 PM in the Annex I Building
The Engineering Students' Advisory Board is collaborating with the Engineering and Computer Science Resource Center and the Society of Women Engineers to host a Social Alumni Mixer with alumni who were active in engineering organizations during their time. Get to chat and mingle with them to see what they're up to today!
If you're attending, the suggested dress code is business casual. Please be sure to present proof of vaccination and bring a mask before coming into the building.
ECS, SWE, and ESAB welcomes persons with disabilities and will provide reasonable accommodations upon request. If you would like reasonable accommodations for this event, please contact Jade Zaleski, ECS President, at (415) 827-8831 or jzaleski@mail.sfsu.edu.
Engineering Student Organization Events
Imposter Syndrome Workshop with SWE and TBP | Wednesday, April 20 at 6:00 PM
Do you have trouble identifying yourself as an engineer? Do you feel like you don't belong? Join SWE and TBP on  Wednesday, April 20th at 6 PM for an Imposter Syndrome Workshop. Don't be afraid to be vulnerable as we will be sharing background, stories, and tips regarding imposter syndrome in engineering students. We hope to see you there!
Meeting ID: 842 7401 2193
Passcode: SWExTBP
SHPE is hosting a Dodgeball Mixer with lunch, arts and crafts, and more on Saturday, April 23 at 10:30 to 3 PM at Willard Park, 2730 Hillegrass Ave, Berkeley, CA. 
If you're interested, sign up for the event since there are limited spots! Please sign up by April 19 at 11 PM.