Dipendra Sinha, Ph.D.
Professor of Mechanical Engineering
Discipline: CAD/CAM
Office: HH 807D
Phone: (415) 338-7737
Fax: (415) 338-0525
Email: dsinha@sfsu.edu
Personal webpage: http://medesign.sfsu.edu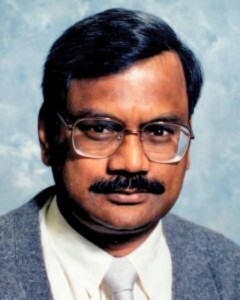 Education
B.S. Engineering, Patna University, India
P.G. Diploma in Business Mgmt., Xavier Labor Relations Inst, India
M.S. Applied Mechanics, UMIST, England
Ph.D. UMIST, England
Technical Interests
CAD/CAM
Precision Engineering
Mechanism Design
Teaching Areas
ENGR 201 Dynamics
ENGR 308 Numerical Methods
ENGR 892 Mechanism Synthesis & Design
Biography
Prof. Dipendra K. Sinha obtained B.S. in Mechanical Engineering from Patna University (1967), a Postgraduate Diploma in Business Management from Xavier Labor Relations Institute, Jamshedpur, Indian (1976), Masters (1978) in Applied Mechanics and Ph.D. (1981) from University of Manchester Institute of Technology , Manchester, England. Prior to coming to SFSU he had worked in industry, government and academia in Nepal, India, England, Canada, east coast and the mid-west.
Since joining SFSU Prof. Sinha has published five books and more than a dozen papers. He has taught over 20 courses from freshman level to graduate. He has established a good rapport with industry and has been able to obtain Finite Element and CAD packages such as Wildfire, Abaqus, ANSYS, etc. free of charge or at nominal rate. Prof. Sinha has completed his 3 year stint at the University Academic Senate where he also served as the Vice-chairman.
Prof. Sinha has served as a Statewide Academic Senator (2017-2020), a Member of Fiscal and Governmental Affairs Committee (FGA, ASCSU), and a Member of Executive Committee (SF State).